The Spatial Literacy in Teaching (Splint) Centre of Excellence in Teaching and Learning (CETL) was a five year joint initiative between University College London, the University of Leicester and the University of Nottingham. The UCL team created numerous outreach websites during this programme including our Worldnames and Great Britain Names profilers. Our commitment to excellence in teaching and outreach is enduring, and this page details our contributions to leading learning resources. For further details of the Splint CETL and its activities, please visit the website at www.splint-cetl.ac.uk.
Geospatial Analysis: A Comprehensive Guide to Principles, Techniques and Software Tools (Third Edition)
Michael J de Smith, Michael F Goodchild, Paul A Longley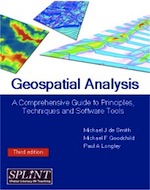 Search engines are a boon for finding out what different GIS techniques do, and how they can help in problem solving. Software vendors are understandably keen to use them to suggest particular software, as do researchers keen to disseminate the results of their own research. But just because a software solution has been adopted by the herd does not mean that it is the most appropriate, the most reliable or the most cost effective. Worse still, the preponderance of sponsored links makes it less likely that the user will be guided to the most appropriate solution . The spatial analysis community needs to find a way through the software maze, and the ever wider use of search engines rarely seems to suggest a clearer route - and arguably it inserts more twists and turns into the decision process. With this in mind, we have developed what we hope is a comprehensive guide that demystifies the principles, techniques, formulae and computer methods of many software tools.
For more about this book and associated resources click here
Geographical Information Systems and Science (Third Edition)
Paul A. Longley, Michael F. Goodchild, David J. Maguire, and David W. Rhind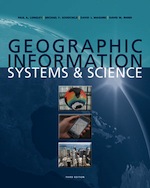 The Third Edition of this bestselling textbook has been fully revised and updated to include the latest developments in the field and still retains its accessible format to appeal to a broad range of students. Now divided into five clear sections the book investigates the unique, complex and difficult problems that are posed by geographic information and together they build into a holistic understanding of the key principles of GIS.
This is the most current, authoritative and comprehensive treatment of the field, that goes from fundamental principles to the big picture of:
GIS and the New World Order
security, health and well-being
digital differentiation in GIS consumption
the core organizing role of GIS in Geography
the greening of GIS
grand challenges of GIScience
science and explanation
For more about this book and associated resources click here